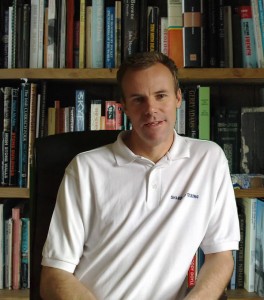 Jonathan Senior – is Head of Sharp End Training UK
Jonathan is a public sector management consultant and the brains behind the development of Sharp End Training. He has a degree in Organisation Development, is a Chartered Manager and a member of the Chartered Management Institute UK.
Jonathan has worked with managers and directors in the UK challenging the inefficiencies of staff and business systems. Sharp End Training came out of his frustration with the system and his realisation that the internet and new and emerging technologies were the ideal way to deal with business and staff training.
He is now working with other experts in their own field of expertise to extend the reach of Sharp End Training to deliver training on line to a mass audience.
Jonathan lives with his family in Sheffield, England. He loves sport and especially athletics and is a part time coach at the English Institute of sport. In 2009 he became an Ironman triathlete. He has written his first book "Confessions of an interim manager" published in 2009.